Sometimes when you release an bulk order to the contract manufacturer, you may worry about the quality of PCBA. If I can receive good quality PCBA after balance payment ?
Some tips below to control the quality of PCBA before balance payment & shipment.
1) You can request the vendor provide some videos to check the quality and procedure, for assembly, for testing, for packing, etc. You can request a Skype meeting as well if you want.
2) You can let your asia project manager or the third party inspection company inspect on the PCBA before shipment, if necessary.
3) Sample testing before mass production. For example, you placed an order of 5,000pcs PCBA from the vendor, 50% deposit wired then the vendor start purchasing parts, assembly some samples (for example 50pcs) and send it to you for approval, then finish remaining assembling then 50% balance before shipment.
In fact, some problems may occur after you got the PCBA, even Apple or Samsung cannot declare that their defective rate is zero. Some problems occurred can be understood right, the most important is that if the supplier would like to find the reason and fix it.
Asia Pacific Circuits Co., Ltd control the quality strictly, and we will responsible for our customers if the problems come. We have a American customer who named Chris, he placed his first order with APC in August of 2018, however unfortunately 90 pcs boards were failed for some reason, we let our customer returned the boards and fixed them, then shipped to him again. He was satisfied with our after-sales service, and release repeat orders to APC in 2019 & 2020 (attached some pictures for reference).
6/12/2018 customer told us 90pcs boards failed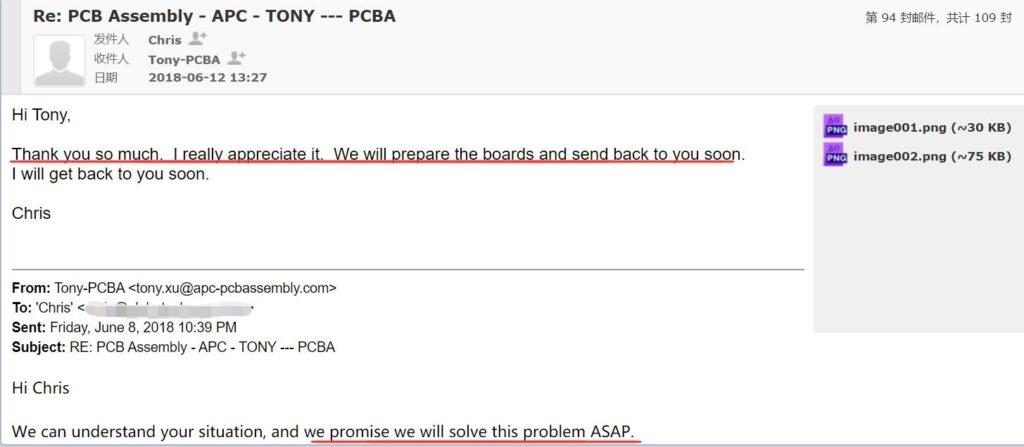 08/02/2018 customer got the 90pcs fixed boards from APC

11/09/2018 customer told us the new boards works fine

03/12/2020 customer repeated the order

Feel free to contact us for instant quote.
Asia Pacific Circuits Co., Ltd